PLEASE CLICK TO DONATE TO OUR SITE!!!!
This is just an unofficial fan page, we have no connection to "One Life to Live" or ABC.
PLEASE CLICK TO DONATE TO OUR SITE!!!!
One Life to Live Character Descriptions
Natalie Buchanan
Played by Melissa Archer
Written By Richard

Natalie Balsom Buchanan Laurence Vega Buchanan, portrayed by the beautiful redhead Melissa Archer, is a fiery and emotional character. She came to Llanview with a hidden agenda and a big secret that would shake up the Buchanan family! Natalie turned out to be Viki and Clint's long-lost daughter, and Jessica Buchanan's twin sister.
Natalie had a hard life growing up with an alcoholic mother, Roxy Balsom, who was nothing like her birth mother, Viki. Natalie always dreamed of having a life like that of her twin sister Jessica, and she felt cheated that she missed out on it. When she came to Llanview with her boyfriend, Seth, she was out to get everything that was stolen from her during her childhood: the mansion, the money, the name, but the one thing that she wanted most of all, that she never got, was love. Natalie lost Seth to Jessica, but she gained a family, whether they wanted her or not! At first, Natalie was seen as a liar and a schemer, but when Viki found out that she had another daughter, she reached out to Natalie, and they soon formed a loving mother and daughter bond. Later on Natalie became close with her twin sister. They built a relationship together but it took some time. Natalie and her father Clint also met and became close and so did Natalie and her brother Rex, who had also lived with Roxy. Natalie later went to work for the Llanview PD alongside her Uncle Bo Buchanan.
Though Natalie had lost Seth, she later found love with artist Cristian Vega, ex-boyfriend of her sister Jessica! Natalie and Cris had their problems, as most couples do in Llanview, and just as they were about to find happiness with each other Cris was taken from her...or so she thought. Enter police detective, John McBain, a man with a mysterious past who came into Natalie's life when she needed someone the most. Slowly, John and Natalie became closer with each other, and they fell in love, only to have their relationship tested when Cris turned up alive but not so well. It seems that while thought dead, Cris had been held captive by Carlo Hesser and brainwashed!
After much soul searching and love triangles, Natalie and John reunited and were hoping to start a new life together. However, fate stepped in bringing a tragic accident, and John was thought to have died in a crash. Natalie's entire world came crashing down, and just as she was starting to mourn John, she learned that he wasnít really dead: John was alive, but badly burned. Now Natalie and John have another chance to find happiness, and who knows what the future will bring for them.
Natalie Buchanan has become a heroine of One Life To Live; after all, she is the daughter of Viki, the matriarch of the show, so it's only natural for her to follow in Vikiís footsteps. Natalie is a wonderful and interesting character, mainly because of the heart and spunk that Melissa Archer brings to her; she makes us root for Natalie and since she has come to Llanview, she has brought with her an energy and a spark that lights up the town. Natalie has come a long way since she first came to Llanview, and she has found what she wanted most of all: a family and love.
Proofread by Laura on 2/28/11
Back to the Main OLTL Character Descriptions Page
---
Buy Soap Magazines
Go here for great news & scoops, photos and in-depth articles!
Soap Opera Digest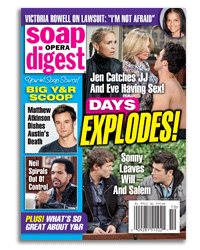 ---