PLEASE CLICK TO DONATE TO OUR SITE!!!!
One Life to Live Character Descriptions
John McBain
Played by Michael Easton
(October 1, 2003 to Present)
Written by Sarah

A 12-year-old boy runs through the hospital holding his father's hand just hours before his death. John, that boy of 12 had to go home to his mother Eve and his brother Michael after his father was murdered and became the head of the household. John promised himself that one day he would be a police officer just like his father and catch the one responsible. It was not until 25 years later and his move to Llanview that he was able to get the man who murdered his father, Thomas McBain. The following is the story of the man whose mission was to bring down a murderer.
In swaggered the dangerously gorgeous FBI agent posing as right-hand man to the notorious Flynn Laurence. While trying to obtain evidence to take down bad man Laurence, John met Natalie wielding a cue stick. Natalie unwittingly got involved in an unsavory pool tournament which caused a whole heap of trouble. The day after he married Natalie, Cristian fell victim to Laurence and was thought dead.
John ended up making his home in Llanview and exchanging his FBI shield for an LPD one. John was there for Natalie to blame for Cristian's death and then lean on when the anger was gone. The sparks that were ignored before Cris's death and then not seen through the grief were finally recognized.
John found himself in his biggest Llanview case so far, The Music Box murders. This case reintroduced him to the man who killed the only woman to whom John had ever truly committed himself. John eventually took down Dr. Stephen Haver, the murderer of love Caitlin Fitzgerald and many more. John and Natalie still had those sparks but, for reasons unknown, there was very little acting on them.
During another case, John got close to the town's gorgeous defense lawyer Evangeline Williamson. They explored a beautiful relationship, but she wanted more and he was incapable of giving her what she needed. The gorgeous twosome ended their passionate relationship on friendly terms.
At this time in his life, he still had the death of his father hanging over him, but John and Natalie finally took those steps that made them the couple we thought they would become in 2003. John being John, he still had issues when it came to relationships, which made it less than easy for the pair. John was finally able to pin his father's murder on the one responsible, Spencer Truman. John found peace and wanted Natalie to become his wife, but it seemed his death was to come instead of his proposal. Of course, he was not dead but severely burned and thought to be dead. When Natalie and he were finally reunited she was scared for his health, and he was obsessed with not letting Truman get away with murder. Truman ended up murdered, but instead of the couple getting closer, they grew apart. John liked to do things on his own, and Natalie was willing to do anything, including lying to John and drugging him, for his own good.
Yet again, the gorgeous troubled man is alone but maybe not for long. Do you think Marty and son Cole can reach that place that no one else has?
Proofread by Laura on 2/28/11
Back to the Main OLTL Character Descriptions Page
---
Buy Soap Magazines
Go here for great news & scoops, photos and in-depth articles!
Soap Opera Digest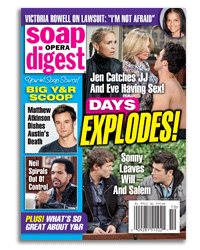 ---