PLEASE CLICK TO DONATE TO OUR SITE!!!!
This is just an unofficial fan page, we have no connection to "One Life to Live" or ABC.
PLEASE CLICK TO DONATE TO OUR SITE!!!!
One Life to Live Character Descriptions
Ben Davidson
Played by Mark Derwin
Written by Richard

Soon after coming to Llanview, Ben Davidson embarked on one of the town's greatest love stories when he met Viki Lord; Ben was working at Crossroads bar when Viki walked into his life. From the first words that he said to her, "Hello Blondie", a wonderful romance was about to be born. Ben and 'Blondie' had a love together that spoke volumes. Even in their quiet moments, you could tell that they were made for each other.
Ben was the brother of Sam Rappaport and Grace Davidson. He came to Llanview and reconnected with his family after years of being separated. Ben had a mysterious past, as do most that arrive in Llanview. Ben was involved with the Mob, and he was a 'Mob doctor' for a number of years. Ben used his knowledge of healing people when he came to Llanview, and he became a doctor. Ben was a good man and a great brother to Sam and Grace. He shared a special bond with his older brother, and they looked to each other for support during tough times. Ben didn't know it but his arrival in Llanview would have a ripple effect on the entire town.Asa Buchanan and Sam were involved in a bitter feud. Asa blamed Sam and his family for everything bad that had happened to the Buchanans since the Rappaports' arrival. Asa was a tough old man who wasn't going to admit it when he was wrong, and he waged war on Sam and Ben. At the same time, Asa and his wife Renee were searching for their long lost son. He turned out to be none other then Ben Davidson! There was bitter blood between Asa and Ben, but Renee was thrilled to have found her son after all these years, and she reached out to Ben. Ben already felt close to Renee, and he quickly formed a bond with her. Ben and Asa, on the other hand, would take a lot longer. At the time, it turned out that Asa was not well, and he regretted some of the things that he had said and done to Ben in the past. He later reached out to his son, and Asa and Ben became closer.
Ben's heart belonged to Viki; she fell for him the moment they met at the Crossroads bar, and Ben loved his 'Blondie' with all his heart. Ben came into Viki's life at a time when she needed him the most. She was alone and looking for love and she found it with Ben. What she didn't expect to find was that Ben would turn out to be the great love of her life.
Ben and Viki's road to happiness was not easy, and they faced many roadblocks and adventures along the way. Ben's past came back to haunt him in the form of Skye Chandler and his ex-wife and Mob princess Gina Russo who both set out to break up Ben and Viki. However, for a time nothing could come between the two of them, not even Viki's battle with cancer. The tragedies and problems that they went through only made their relationship stronger. Ben gave Viki a life full of love, fun, and romance. They brought much joy and happiness into each others' lives and taught each other how to love again.
Ben was Viki's best friend as well as her lover, and they soon became husband and wife. They were very happy together. Fate took a cruel turn, though, when during a prison outbreak, Ben was shot and went into a coma. Viki's world came crashing down, and Ben remained like this for a long time. Through it all though, Viki never gave up hope that Ben would come back to her, and he did wake up, if only for a short time, to see his true love one more time. It was not long after this that Viki was very sick; her heart was weak, and she needed a new heart. Viki's life was on the line. In a heart-wrenching twist of fate, the only match for her heart was Ben's. Without his heart Viki would have died, but as he helped her to live life when he met her, Ben's last gift to Viki was for her to carry on that life. When Viki met Ben, he taught her how to begin a new chapter in her life. It was fitting that Ben gave her another chance to live, and a part of him lives on with her.
Mark Derwin brought a quiet charm to Ben Davidson, and he also infused him with a fun sense of humor as well. There was never a dull moment when Ben and Viki were together. Ben is missed very much right now in Llanview. Those who knew him will tell you that he brought so much happiness to those around him. He was a loving stepfather to Jessica and Natalie, a friend to turn to for his brother Sam, a devoted son to his mother Renee, and a caring and loving husband to his wife Viki. RIP, Ben Davidson. We Miss You!
Proofread by Laura on 3/7/11
Back to the Main OLTL Character Descriptions Page
---
Buy Soap Magazines
Go here for great news & scoops, photos and in-depth articles!
Soap Opera Digest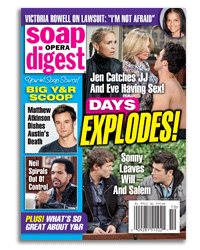 ---