PLEASE CLICK TO DONATE TO OUR SITE!!!!
This is just an unofficial fan page, we have no connection to "One Life to Live" or ABC.
PLEASE CLICK TO DONATE TO OUR SITE!!!!
One Life to Live Character Descriptions
We need more daytime recap/update writers, article writers, MS Frontpage and Web Expression users, graphics designers, and more, so please email us if you can help out! More volunteers always needed! Thanks!
We hope to eventually make pages for all of the characters. The ones we have done so far here are linked.
Current Major Characters
Blair Cramer (Mia Korf/Kassie DePaiva)
Bo Buchanan (Robert S. Woods)
Clint Buchanan (Clint Ritchie/Jerry verDorn)
Cutter Wentworth (Josh Kelly)
David Vickers (Tuc Watkins)
Destiny Loretta Evans (Shenell Edmonds/Laura Harrier)
Dorian Lord Vickers (Nancy Pinkerton/Clair Malis/Elaine Princi/Robin Strasser)
Jeffrey King (Corbin Bleu)
Matthew Buchanan (Eddie Alderson/Robert Gorrie)
Natalie Buchanan Banks (Melissa Archer)
Nora Hanen Buchanan (Hillary B. Smith)
Téa Delgado Manning (Florencia Lozano)
Todd Manning (Roger Howarth/Trevor St. John)
Victor Lord (Trevor St. John)
Victoria (Viki)/Niki Lord Buchanan (Gillian Spencer/Joanne Dorian/Christine Jones/Erika Slezak)
The Children
Danielle Manning (Kelley Missal)
Jack Cramer Manning (Ryan & Rylie Cramer/Carmen LoPorto/Andrew Trischitta)
Sam Manning (Patrick J. Gibbons)
Liam Asa McBain ( Christian & Gavin McGinley/Finn Robbins)
Recurring Characters
Dusky (Jessie Malakouti)
Rama Varahabhotla Patel (Shenaz Treasury)
Vimal Patel (Nick Choksi)
Nigel Bartholomew-Smythe (Peter Bartlett)
People From the Past
Addie Cramer (Pamela Payton-Wright)
Adriana Cramer (Amanda Cortinas/Melissa Fumero)
Al Holden (J. Evan Bonifant/Nathaniel Marston)
Allison Perkins (Barbara Garrick)
Alex Olanov (Tonya Walker)Alicia Grande (Marcia McCabe)
Andrea Harrison Vega (Bronwên Booth/Wendee Preatt)
Rev. Andrew Carpenter (Robert Wortham Krimmer)
Anna Wolek Craig (Doris Belack/Kathleen Maguire/Phyllis Behar)
Antonio Vega (Kamar De Los Reyes)
Asa Buchanan (Phil Carey)
Aubrey Wentworth Buchanan (Terri Conn)
Austin Buchanan (David Gautreaux)
Baz Moreau (Barret Helms)
Becky Lee Abbott (Jill Voight/Mary Gordon Murray)
Ben Davidson (Mark Derwin)
Billy Douglas (Ryan Phillippe)
Blanca Morales (Carolina Bermudez)
Brad Vernon (Jameson Parker/Steve Fletcher)
Bree Brennan (Stephanie Schmal)
Brenda Grande (Brenda Brock)
Britney Jennings (Portia Reiners
Brody Lovett (Mark Lawson)
Cain Rogan (Christopher Cousins)
Carla Gray (Ellen Holly)
Carlo Hesser/Mortimer Bern (Thom Christopher)
Carlotta Vega (Patricia Mauceri/Saundra Santiago)
Carlo Hesser (Thom Christopher)
Cassie Callison (Cusi Cram/Ava Haddad/Holly Gagier/Laura Koffman)
Charlie Banks (Brian Kerwin)
Charlotte Hesser (Audrey Landers)
Chloe Brennan/Hope Manning (Madeline and Tess Sullivan)
Claire Baxter (Haviland Morris)
Claudia Reston (Kerry Butler)
Cole Thornhart (Brandon Buddy/

Van Hughes

)
Connie O'Neill (Elizabeth Keifer/Terry Donahue)
Cord Roberts (John Loprieno)
Corrine (Ann Hamilton)
Cristian Vega (David Fumero)
Daniel Colson (Mark Dobies)
Danny Wolek (Steven Culp/Joshua Cox/Michael Palance)
Darren Price (J. J. Singleton)
David Renaldi (Michael Zaslow/Vincent Baggetta)
Delilah Ralston Garretson (Shelly Burch)
Didi O'Neill (Barbara Truetelaar)
Donald LaMarr (Jared Martin)
Dorothy Hayes (Elisabeth Rohm)
Dr. Campbell (André Blake)
Drew Ralston (Matthew Ashford)
Duke Buchanan (Matthew Metzger)
Dylan Moody (Christopher Douglas)
Echo DiSavoy (Kim Zimmer)
Ed Hall (Al Freeman Jr.)
Eddie Ford (

John Wesley Shipp)

Elijah Clarke (Matthew Walton)
Emily MacIver (Amber Ryan)
Evangeline Williamson (Renée Elise Goldsberry)
Flash/Sarah Roberts (Shanelle Workman/Justis Bolding)
Gabrielle Medina (Fiona Hutchinson)
Gigi Morasco Balsom (Farah Fath)
Grace Atherton (Susan Gibney)
Grace Davidson Monroe (Susan Misner)
Greg Evans (Terrell Tilford)
Gretel Rae Cummings (Linda Dano)
Hank Gannon (Nathan Purdee)
Hannah O'Connor (

Meghann Fahy)

Harry O'Neill (Frank Converse)
Hayes Barber (Jed Orlemann)
Herb Callison (Anthony Call)
Hope Manning-Thornhart (Madeline, Molly, and Tess Sullivan)
Hugh Hughes (Josh Casaubon)
Ian Armitage (Will Kempe)
Inez Salinger (Jessica Leccia)
Irene Manning (Kate McKeown/Barbara Rhodes)
Jake Harrison (Joe Lando)
James Ford (Nic Robuck)
Jamie Vega (Saoirse Scott)
Janet Ketring (Janet Zarish)
Jared Banks (John Brotherton)
Jennifer Rappaport (Jessica Morris)
Jenny Wolek Renaldi (Katherine Glass/Brynn Thayer)
Jessica Buchanan (Erin Torpey/Bree Williamson)
Joe Riley (Lee Patterson)
Joey Riley Buchanan (Ryan Morris/John Paul Learn/Chris McKenna/Nathan Fillon/Don Jeffcoat/Bruce Michael Hall/Tom Degnan)
John McBain (Michael Easton)
John Sykes (John Bolger)
Johnny Dee Hesser (Anthony Crivello)
Jon Russell (John Martin)
Josh Hall (Laurence Fishburne)
Joy O'Neill (Julie Ann Johnson)
Judge Fitzwater (Novella Nelson)
Karen Wolek (Kathryn Breech/Julia Duffy/Judith Light)
Kate Sanders (Marcia Cross)
Mayor Kathleen Finn (Wendy Moniz)
Kelly Cramer (Gina Tognoni/Tracy Melchior/Heather Tom)
Keri Reynolds (Sherri Saum)
Kevin Buchanan (Jonathan Brandis/Jack Armstrong/Kirk Geiger/Timothy Gibbs/Ken Kenitzer/Morgan K. Melis/Kevin Stapleton /Joey Thrower/Matthew Vipond/Dan Gauthier)
Kimberly Andrews, nee Aubrey Wentworth (Amanda Setton)
Kirk Harmon (Randolph Mantooth)
Kyle Lewis (Brett Claywell)Langston Wilde (Brittany Underwood)
Dr. Larry Wolek (Michael Storm)
Larry Wolek (Paul Tully/Jim Storm/Michael Storm)
Laurel Chapin (Janice Lynde)
Layla Williamson (Tika Sumpter)
Lee Ramsey (Hunt Block)
Lee Ann Demerest (Yasmine Bleeth)
Lindsay Rappaport (Catherine Hickland)
Liz Reynolds (Barbara Niven)
Lola Montez (Camila Banus)
Luna Moody (

Susan Batten)

Madame Delphina (Lea DeLaria)
Maggie Ashley/Patricia Ashley Lord (Jacqueline Courtney)
Maggie Carpenter (Crystal Chappell)
Marcie Walsh McBain (Kathy Brier)
Marco Dane (Gerald Anthony)
Margaret Cochran (Rebecca Mader/Tari Signor)
Mari Lynn Dennison (Tammy Amerson)
Maria Roberts (BarBara Luna)
Mark Toland (Tommy Lee Jones)

Markko Rivera (Jason Tam)

Marty Saybrooke (Susan Haskell/Christina Chambers)
Max Holden (James DePaiva)
Megan Gordon Harrison (

Jessica Tuck)

Mel Hayes (Stephen Markle)
Melanie MacIver (Darlene Vogel)
Melinda Cramer (Patricia Pearcy/Jane Badler/Sharon Gabet/Nicole Orth-Pallavicini)
Michael McBain (R. Brandon Johnson/Nathaniel Marston/Robert Harte/Chris Stack)
Meredith Lord Wolek (Trish Van Devere/Lynn Benesch)
Michael Grande (Dennis Parlato)
Miles Laurence (David Chisum)
Mimi King (Kristen Meadows)
Mitch Lawrence (Roscoe Born)
Moe Stubbs (John Rue)
Nash Brennan (Forbes March)
Nathaniel Q. "Nate" Salinger (Lenny Platt)
Neela Patel (Teresa Patel)
Noelle Ortiz (January LaVoy)
Oliver Fish (Scott Evans)
Olympia Buchanan (Taina Elg)
Dr. Paige Miller (Kimberlin Brown/Cady Huffman/Alexandra Neil)
Pamela Buchanan (Christine Jones)
Patrick London (Stephen Meadows/Colm Meaney/Robert S. Woods)
Patrick Thornhart (Thorsten Kaye)

Paul Cramer (Brock Cuchna/David Tom)

Pete O'Neill (James O'Sullivan)
Powell Lord (Sean Moynihan)
Rachel Gannon (Ellen Bethea/Mari Morrow/Sandra P. Grant/Daphnée Duplaix Samuel)
Rafe Garretson (Ken Meeker)
Ray Montez (A Martinez)
Rebecca Lewis (Reiko Aylesworth/Jessica Kaye)
Richard Abbott (Luke Reilly/Keith Langsdale/Robert Gribbon/Jeffrey Byron)

Rick Powers (

Austin Peck)
R.J. Gannon (Timothy D. Stickney)
Renée Divine Buchanan (Patricia Elliott)
Rex Balsom (John-Paul Lavoisier)
Riley Colson (Jay Wilkison)
River Carpenter (Matthew Twining)
Rob Coronol (Ted Marcoux/Mark Arnold)
Robert Ford (David A. Gregory)
Roger Gordon (Larry Pine)
Ron Walsh (Timothy Adams)
Roseanne Delgado (Erika Page)
Ross Rayburn (Shawn Christian/Michael Lowry/Billy Warlock)
Roxanne "Roxy" Louise Balsom (Ilene Kristen)
Ryder Ford (Matthew and Nicholas Urbanowicz)
Sam Rappaport (Kale Browne/Laurence Lau)
Sarah Gordon Buchanan (Jensen Buchanan/Grace Phillips)
Schuyler Joplin (Scott Clifton)
Seth Anderson (Brandon Routh/Steve Richard Harris)
Shane Morasco (Austin Williams)
Shannon McBain (Danneel Ackles nee Harris)
Sheila Price Gannon (Valarie Pettiford/Stephanie Williams)
Skye Chandler (Robin Christopher)
Sloan Carpenter (Roy Thinnes)
Spencer Truman (Paul Satterfield)
Stacy Morasco (Crystal Hunt)
Starr Manning (Kristen Alderson)
Stella Balsom (Sylvia Miles)
Stephanie Hobart (Robyn Griggs)
Steve Holden Sr. (Russ Anderson)Shawna Quinlan (Taryn Reif)
Steven Haver (Matthew Ashford)
Talia Sahid (BethAnn Bonner)
Tate Harmon (Chris Beetem)
Téa (Florenzia Lozano)
Ted Clayton (Keith Charles/Mark Goddard)
Theo Price (Maximillian Tapper)
Tico Santi (Javier Morga)
Tina Lord Roberts (Andrea Evans/Kelli Maroney/Marsha Clark/Karen Witter/Krista Tesreau)
Tomás Delgado (Ted King)
Tommy McBain (Luke Kendler and Jacob Cook Clodfelter/Zachary Frisch)
Tony Lord (George Reinholt/Philip MacHale/Chip Lucia)
Trent Chapin (David Beecroft)
Ty Moody (Casper Van Dien)
Troy/Colin McIver (Ty Treadway)
Ursula Blackwell (Jill Larson)
Vanessa Montez (Jacqueline Hendy)
Lt.Vince Wolek (Antony Ponzini/Jordan Charney/Michael Ingram)
Vincent Jones (Tobias Truvillion)
Dr. Vivian Wright (Kearran Giovanni)
Wanda Wolek (Marilyn Chris/Lee Lawson)
Will Rappaport (Jason-Shane Scott)
Zach Rosen (Josh Philip Weinstein)
Zane Buchanan (Jack Ferrantini)
Other Character Lists: AMC, ATWT, B&B, Days, GH, GH:NS, GL, OLTL, Passions, PC, Y&R
---
Buy Soap Magazines
Go here for great news & scoops, photos and in-depth articles!
Soap Opera Digest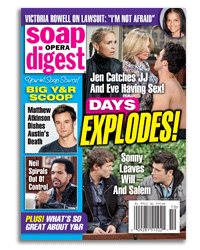 ---