PLEASE CLICK TO DONATE TO OUR SITE!!!!
Guiding Light Characters
Description by Elizabeth
Richard Winslow - Deceased
PLAYED BY:
Bradley Cole (July 15, 1999 to July 12, 2002; April 18 & 21, 2003)
CHILDREN:
Jonathan "J.B." Randall (with Reva)
Unnamed child (with Cassie; deceased)
William Richard Winslow (adopted; with Cassie)
Tammy Layne (adopted daughter)
R.J. Jessup (adopted son)
WORK:
Former luxury used car salesman
Former Ambassador-at-Large for San Cristobel
Former President of San Cristobel
Former Prince of San Cristobel
ABOUT:
Richard was a prince (literally!) with a wonderful heart. He always seemed to want to do the right thing. Even when he lied to his wife, Cassie, about where he was working, it was because he didn't want to get her worried about money.
Richard was first introduced when Reva traveled back to San Cristobel in order to find out more about her past.
Eventually, Richard fell in love with Reva's sister, Cassie. Though he had a tumultuous relationship with some members of his own family, Cassie gave him what he always wanted – a real family. It was while he was with her that he decided to adopt her children, Tammy & RJ. He truly loved being a parent and father figure to them.
He and Cassie shared a strong bond, so much so that when he was dying, he didn't want to burden her with the truth of his physical pain. He confided in Reva via an alphabet board that he was in immense pain. "Please, let me die," he begged her. Reva, after some serious soul searching, decided to unplug Richard's life support, thus killing him.
Richard last appeared on screen when he came to Cassie in a dream. He comforted her and urged her to go on with her life, and live it to the fullest.
Page proofread by Laura 12/8/09
Back to the Main Guiding Light Character Descriptions Page
---
Buy Soap Magazines
Go here for great news & scoops, photos and in-depth articles!
Soap Opera Digest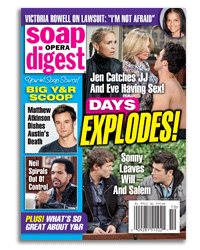 ---