PLEASE CLICK TO DONATE TO OUR SITE!!!!
Guiding Light Characters
Description by Elizabeth
Father Raymondo "Ray" Santos
PLAYED BY:
Jaime Passer (February 17 to 19th, 1999; recurring)
George Alvarez (March 30, 1999 to present; recurring)
First arrived on Guiding Light: 1999
WORK:
Catholic priest
Sponsored the free clinic on Fifth Street
"Rock the Vote Springfield" committee Chair
ABOUT:
Besides being a priest, Ray is all about family and doing the right thing. However, Ray has never been involved in the family business; in fact, thatís why he became a priest - to get away from the mob life. Always concerned about the welfare of others, Ray tries to convince people to do the right thing, whether that involves telling Danny (his cousin) to follow his heart about Michelle (when they first got married), or trying to persuade Pilar (another cousin) to come forward about her role in the murder of Ben Warren.
Tony (Ray's brother) constantly used to come to Father Ray for advice before he died. Father Ray was always there to remind his cousins that the most important thing is that they are family and that families stick together.
Father Ray has advised many of the other Springfield residents over the years, as well as presided over weddings, funerals and christenings. He advised both Natalia and Olivia when they needed a lot of counseling over their relationship, and he also talked a lot to Frank and to Natalia's son, Rafe.
Page proofread by Laura 9/22/09
Back to the Main Guiding Light Character Descriptions Page
---
Buy Soap Magazines
Go here for great news & scoops, photos and in-depth articles!
Soap Opera Digest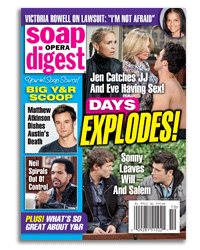 ---