PLEASE CLICK TO DONATE TO OUR SITE!!!!
Guiding Light Characters
Description by Elizabeth
Olivia Spencer Lewis Spaulding
PLAYED BY:
CHILDREN:
Emma Spencer Spaulding Lewis (daughter with Phillip Spaulding, adopted by Bill Lewis)
Ava Peralta (given up for adoption, biological father – Jeffery O'Neill)
WORK:
Executive at Lewis Oil & Construction
Full owner of the Beacon Hotel
Former Head of Acquisitions at Spaulding Enterprises
Partner in Slingshot Enterprises
Stockholder at Spaulding Enterprises
Co-Owner of the Beacon Hotel
Former Executive at Spaulding Enterprises
Former executive at Lewis Construction
Former assistant to Prince Richard Winslow
ABOUT:
Olivia was originally Prince Richard Winslow's assistant, she helped Princess Catherine (Reva Lewis) flee the country and arranged for Richard and Catherine's son, Jonathon to be raised by her sister Marissa. Eventually Olivia began dating Josh Lewis, and later they married until Josh discovered that Olivia had been lying to him about a project they were working on.
Although Olivia is a fierce businesswoman she is also a loving mother. She even left Springfield for the well being of her child. Since her child's birth everything she has done has been in an attempt to give Emma the life that Olivia think she deserves.
She loves to play games when it comes to business and even more than playing the game she likes to win.
Olivia is a brash woman, never afraid to speak her mind, regardless of what others may think.
Back to the Main Guiding Light Character Descriptions Page
---
Buy Soap Magazines
Go here for great news & scoops, photos and in-depth articles!
Soap Opera Digest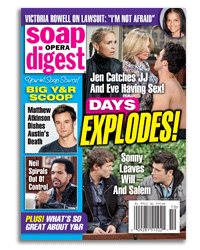 ---