PLEASE CLICK TO DONATE TO OUR SITE!!!!
Guiding Light Characters
Description by Elizabeth
Melissande "Mel" Boudreaux Bauer, Esq
PLAYED BY:
Yvonna Kopasz-Wright (recurring September 4, 2001 to present)
ROMANCE:
Sean (dated)
Ashton (dated)
Rick Bauer (married, May 31, 2002)

CHILDREN:
Leah Bauer (with Rick)

WORK:
Lawyer
Provided legal aid for Harley's Angels, a nonprofit detective/protection agency
Former law clerk for the District Attorney's office
Former doctor

ABOUT:
Mel is an overachiever, having graduated at the top of her medical class at John Hopkins University. After finishing up with medical school and her internship, Mel began law school and worked as an assistant to the DA for a short time. After her brief stint working with the district attorney's office, she then opened up a private investigation firm with Harley and Blake.

Mel fell for Rick, whom she met while working at the hospital. Although her father did not approve of her relationship with Rick, she went against his wishes. This was not her usual behavior because she had been a dutiful daughter. She even asked Rick to marry her. The two of them were able to have a baby after some initial concerns over bleak test results.

Mel always does the right thing. She was one of the first to report to the hospital administrator that it looked as though someone had tampered with his life support. She was also supportive of her brother when he wanted to be a musician, as well as her sister-in-law Michelle when she suffered from amnesia. She had a hard time being supportive of her husband when it came to the death of his best friend, Phillip Spaulding. She couldn't seem to get over all the bad things that Phillip did while he was alive, including kidnapping her step-son, Jude.
Eventually, Mel and Rick were divorced because he cheated on her with his old friend, Beth. They remain friends.
Page proofread by Laura 9/22/09
Back to the Main Guiding Light Character Descriptions Page
---
Buy Soap Magazines
Go here for great news & scoops, photos and in-depth articles!
Soap Opera Digest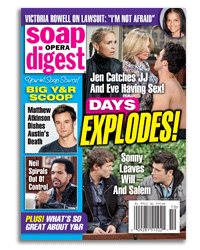 ---