PLEASE CLICK TO DONATE TO OUR SITE!!!!
This is just an unofficial fan page, we have no connection to "Guiding Light" or CBS.
PLEASE CLICK TO DONATE TO OUR SITE!!!!
Guiding Light Characters
Description by Elizabeth
Matthew "Matt" Eric Reardon
PLAYED BY:
Kurt McKinney (July 15, 1994 to August 31, 2000; March 1 & 3, 2005)
WORK:
Former employee at Lewis Oil & Construction
Former gigolo

KIDS:
Maureen Chamberlain Reardon (with Vanessa)

ABOUT:
The grandson of Bea Reardon, Matt worked for a while as a male escort in California for Amanda Spaulding (known then as Madam Amanda).


Vanessa is the love of his life. They met on a lake in the summer when she had left town to have a getaway. He stowed away on her boat and after a storm that left them stranded on an island together, they helped one another survive. They slowly fell in love with one another and were surprised, once they returned to Springfield, how much they were already in one anotherís lives. Matt was the brother of Bridget, with whom Vanessa was ironing out custody agreements over Peter Lewis (son of Bridget Reardon and Billy Lewis).


Although they kept their relationship a secret for a long while, they soon found it impossible to keep quiet. On the night of the Fifth Street fire, the two ran into one anotherís arms, obviously thankful for the closeness they shared.

Matt designed a new wing for the hospital in memory of his wife when he thought she had died. Later, he discovered her online under a pseudonym. He never truly believed she was dead, and in an effort to bring her home (she had faked her own death), he built her dream house.
Everyone helped him finish the house, and it seemed to work because she came home.

The two of them eventually had a daughter of their own, whom they named Maureen. [After Mattís aunt and Vanessaís friend, Maureen Reardon Bauer.] However, less than a year later, they both left town to help Vanessaís older daughter, Dinah, who was on the run.

Matt resurfaced again in 2005, initially to help Ross with an intervention for Dinah. It was obvious by the way she treated her stepfather that things between them, as well as between she and her mother, hadn't changed.
Page proofread by Laura 9/22/09
Back to the Main Guiding Light Character Descriptions Page
---
Buy Soap Magazines
Go here for great news & scoops, photos and in-depth articles!
Soap Opera Digest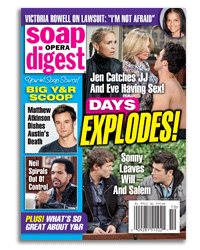 ---