PLEASE CLICK TO DONATE TO OUR SITE!!!!
This is just an unofficial fan page, we have no connection to "Guiding Light" or CBS.
PLEASE CLICK TO DONATE TO OUR SITE!!!!
Guiding Light Characters
Description by Elizabeth
Marah Lewis
PLAYED BY:
Nicole Otto (1987)

Ashley Peldon (November 30, 1988 to April 1991)

Kimberly Brown (December 22, 1993 to July 13th, 1998)

Lauren C. Mayhew (August 4, 1998 to June 23, 1999)

Laura Bell Bundy (October 14, 1999 to October 29, 2001)

Lindsey McKeon (November 6, 2001 to April 19, 2004)
WORK:
Fashion designer
Former Springfield University student

ABOUT:
Marah Lewis had a hard life without her mother around. There were many doubts, for a long time, about who her father was, but eventually it was revealed that Josh Lewis was definitely her father.

Marah grew into a lovely young woman, despite some troubling teenage years. Like most children with divorced parents, she didnít accept her fatherís new wife, Olivia Spencer. She also used her then-boyfriend, Tony Santos, to get back at her father.

She was hurt by many men in her life, but eventually she had an adult relationship with the new DA in town, Jeffrey OíNeill.

After a mystery involving her father and the death of a young woman many years ago, Marah was accused of killingher. It was later found out that the woman, Carrie, was really alive. For a while after the shooting, Marah was depressed. Her mood finally lifted when she got a call from her cousin, Mindy. Mindy offered her a job in Paris, and Marah accepted.

Marah called home Christmas 2004 to let her parents know that she wouldnít be able to make it home due to work conflicts. In 2006, her family had a small reunion in New York, but Josh wasn't there. Later, Marah arranged for her parents to meet at Towers, in order to try to get them to reconcile. It didn't work out, and Marah had a fight with her parents when she visited for Thanksgiving. She declared that she would only return home when her parents reunited.
Page proofread by Laura 11/25/09
Back to the Main Guiding Light Character Descriptions Page
---
Buy Soap Magazines
Go here for great news & scoops, photos and in-depth articles!
Soap Opera Digest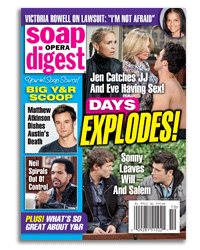 ---