PLEASE CLICK TO DONATE TO OUR SITE!!!!
Guiding Light Characters
Description by Elizabeth
Holly Margaret Norris Bauer Thorpe Lindsey Reade
PLAYED BY:
Lynn Deerfield (July 1970 to July 23, 1976)
Maureen Garrett (contract, August 16, 1976 to August 22, 1980; December 23, 1988 to February 28, 2003; recurring March 3, 2003 to present)
First arrived on Guiding Light: 1970
ROMANCE:
Roger Thorpe (lovers)
Peter Wexler (dated)
Ed Bauer (divorced)
Roger Thorpe (lovers)
Peter Chapman (lovers)
Roger Thorpe (divorced)
Ed Bauer (lovers)
Ross Marler (engaged)
Daniel St. John (engaged)
Leo Flynn (dated)
Ed Bauer (lovers)
Dietrich Lindsey (divorced)
Patrick Cutter (dated; deceased)
Roger Thorpe (lovers)
Fletcher Reade (divorced)
Sam Kershaw (dated)
Billy Lewis (dated)
Buzz Cooper (dated)
Ed Bauer (lovers)
CHILDREN:
Christina Blake Lindsey Thorpe Marler (with Roger)
Marguerite "Meg" Meredith Reade (with Fletcher)

WORK:
Co-owner "Springfield Journal"
Former owner of WSPR-TV
Ran a children's center in Switzerland
Former secretary for Stephen Jackson
Former reporter for the "Springfield Journal"
Former hostess for Liberty Airlines, a subsidiary of her father's company

ABOUT:
Holly grew up spoiled and neurotic, and she pretty much stayed that way. She was daddy's little girl, but she loved the excitement and adventure that first love, sexy Roger Thorpe, was able to show her. Later, she was intrigued when she the same qualities in Roger's son, Sebastian, when he came to town.
Holly is a recovering alcoholic. She also spent some time in a psychiatric ward after it was revealed that she was the Nursery Rhyme Stalker by her own daughter. She had kidnapped many Springfield children (Susan Lemay, Rocky, Marina and Henry "Coop" Cooper, Lizzie Spaulding, Marah & Shayne Lewis, Kevin & Jason Marler, Tammy Layne and RJ Jessup).
Holly has been more stable in the past decade, working at the Springfield Journal and spending time with her daughter, Blake, and her children. She frequently left town to visit relatives. In 2009, Ed Bauer came back to town, and he and Holly left on an extended trip together.
Page proofread by Laura 9/15/09
Back to the Main Guiding Light Character Descriptions Page
---
Buy Soap Magazines
Go here for great news & scoops, photos and in-depth articles!
Soap Opera Digest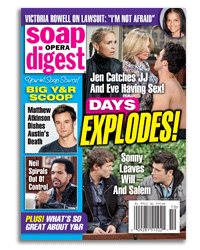 ---