PLEASE CLICK TO DONATE TO OUR SITE!!!!
This is just an unofficial fan page, we have no connection to "Guiding Light" or CBS.
PLEASE CLICK TO DONATE TO OUR SITE!!!!
Guiding Light Characters
Description by Elizabeth
Harley Davidson Cooper
PLAYED BY:
Beth Ehlers (originated role September 1987 to September 10, 1993; January 21 to January 30, 1997; May 29, 1997 to present)
Amy Carlson (filled in November 9 through 12, 1998)
Hayley Sparks (filled in during Ehlers' maternity leaves: May 5, to July 30, 1999; July 18 to August 3, 2001; August 25 and 26, 2002)
CHILDREN:
Susan "Daisy" Lemay (with Dylan)
Alan Cooper "Zach" Spaulding (with Phillip)
Jude Cooper Bauer (with Rick)
Sydney (temporary custody, with Gus)
WORK:
Police detective with the Springfield PD
Former CEO of Spaulding Enterprises
Former partner in "Harley's Angels", a detective/legal aid service with Blake & Mel
Spaulding Enterprises board member
Former police detective with the Springfield PD
Former insurance detective in Florida
Former private detective
Former police officer with the Springfield PD
Former assistant to fashion designer Mindy Lewis
Former nanny for Marah and Shayne Lewis
Former assistant to Spaulding architect, Neil Everest
Former waitress at the 5th Street Diner
Owned antique shop with Alan-Michael
ROMANCE:

Dylan Lewis (lovers)
Cameron Stewart (dated)
Joshua Lewis (engaged)
Rick Bauer (engaged)
Cyrus Foley (affair)
Alan-Michael Spaulding (divorced) (m. Feb 89; div. Jun 90)
A.C. Mallet (divorced) (14 Sep 93; div. 97)
Phillip Spaulding (divorced) (m. Nov 98; div. Spring 01)
Gus Aitoro (married and annulled; deceased) (m. 19 Aug 05; Div. 28 Dec 07)
ABOUT:
Harley had a hard time with men in her life, beginning with her father, whom she thought had died in Vietnam. In reality, he had simply not returned to his family when his Vietnam tour was up. When Harley appeared in Springfield, she was pregnant with Daisy. When she gave birth, she decided to put her up for adoption. Since then, she has had two additional children, Zach and Jude, with two different men.
Harley is a strong and often head-strong woman, always trying to do what she feels is right. She works hard to protect her family and friends. When in a tough situation, she usually turns to her big brother, Frank, who helped raise her when she was younger.
Harley always sought adventure and wanted to catch the bad guys. She was even briefly a super hero. Although wanting to do right, she sometimes compromised her morals when she let her emotions get in the way but always regretted it.
Harley is fiercely loyal to her family, The Coopers. The Coopers have a long-standing rivalry with the Spaulding family, particularly Alan. Alan tried to do a lot of evil things to the Spaulding family, particularly Harley. He had a hand in splitting her up from her marriages to his son, Phillip, and then later to his other son, Gus. Alan and Alex did a lot of illegal things, so she worked hard to put them in jail (although she frequently failed).
Gus was the love of Harley's life. Their marriage did not work for many reasons, but they still loved each other until his tragic death in a motorcycle accident. She left town after his death to help his son, Rafe, who was on the run from the law. Although Rafe returned home, Harley stayed in Greece, where she may have met a new man. She sent for her son Jude to join her there. The rest of her family was still in Springfield.
Page proofread by Laura 10/27/09
Back to the Main Guiding Light Character Descriptions Page
---
Buy Soap Magazines
Go here for great news & scoops, photos and in-depth articles!
Soap Opera Digest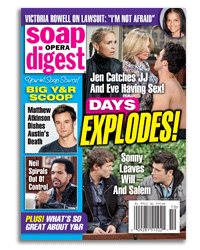 ---