PLEASE CLICK TO DONATE TO OUR SITE!!!!
Guiding Light Characters
Description by Elizabeth
Gus Aitoro (AKA Nicholas Augustino) - Deceased
PLAYED BY:
Ricky Paull Goldin (March 29, 2001 to April 7, 2008)
LIFE:
Born: February 24, 1970
Presumed dead January 27, 2006 to March 2006
Died on April 1, 2008 from injuries in a motorcycle accident
ROMANCE:
Bailey Brook (formerly known as Helen) (lovers)
Blake Marler (kissed)
Harley Cooper (married, then annulled)
Natalia Rivera (married)

CHILDREN:
Raphael "Rafe' Joseph Rivera (w/Natalia)
Sydney (former temporary legal ward; with Harley)
Jude Cooper (step-son)
Zach Spaulding (step-son)
Daisy Lemay (step-daughter)

WORK:
Former legal counsel at Spaulding Enterprises
Former acting Chief of Police
Detective for Springfield PD
Former VP at Spaulding Enterprises
Former private detective
Former FBI agent

ABOUT:
Gus began investigating the Santos Family in Chicago and his investigation led him to Springfield in 2001. When some files were destroyed, Gus became partnered with Harley Cooper.
Originally just a man out to get revenge, Gus developed into a man with a strong sense of family. He will stop at nothing, including breaking the law, to protect those who are important to him. This was proven when he covered up his sister Eden's involvement in a shooting.
Always fond of telling stories of how he grew up, and of his father, he was shocked to learn that he was adopted. Gus found out that his biological father was none other than Alan Spaulding. The two bonded when Gus's aunt was trying to poison Alan so that he would think he was going crazy.
Thinking that he would never turn to his biological family, Gus found himself living with them when things with Harley didn't work out as planned.
Gus didn't give up on Harley, whom he viewed as his one true love. He defended her in the murder trial of his brother, Phillip Spaulding, and then fought for her to give them another chance. Eventually they married. Things between them weren't been easy, even though they still had a lot of love. Many things conspired to keep them apart, the most important of which was Alan, who never liked Harley. Their marriage was annulled, even though they both still loved each other.
Gus married Natalia but was also drawn to Olivia, who was dying of heart disease. Gus was rushing to see Olivia before her death on his son Rafe's motorcyle when he crashed. Gus died, so Olivia received his heart. It took both women, as well as Harley, a long time to get over his death. Eventually, Natalia and Olivia fell in love. Harley left town later to help save Rafe, who was on the run. She ended up staying in Greece.
Page proofread by Laura 10/27/09
Back to the Main Guiding Light Character Descriptions Page
---
Buy Soap Magazines
Go here for great news & scoops, photos and in-depth articles!
Soap Opera Digest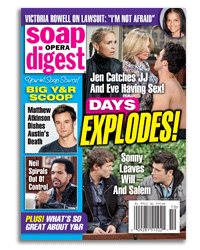 ---