PLEASE CLICK TO DONATE TO OUR SITE!!!!
Guiding Light Characters
Description by Elizabeth
Henry Cooper "Coop" Bradshaw - Deceased
PLAYED BY:
Michael Cugno (December 26, 1996 to early 1997)

Christopher & Nicholas Consolo (early 1997 to December 11, 1998)

Zachary Noll (February 11, 1999 to July 17, 2000)

John Driscoll (September 2, 2004 to February 17, 2009)
WORK:
Author
Teacher
Copy writer for Spaulding Enterprises
Former Student Teacher at the Juvenile Detention Center
Waiter at Company & CO2
Former Chauffeur for Lizzie Spaulding
FACTS:
Born Christmas 1994 (Revised to about 1986 when he was aged to 18 in 2004; possibly revised to 1984 in 2006 since he was a teacher then)

Died of injuries from a car crash on February 17, 2009
ROMANCE:
Lizzie Spaulding (engaged)
Ava Peralta (lovers)
Ashlee Wolfe (lovers)
Beth Raines (lovers)
ABOUT:
Henry Cooper Bradshaw (a.k.a. Coop) was born at the very tail end of 1994. His mother, Jenna, named him after Henry Chamberlain. Coop was one of the children kidnapped by Holly Reade, The Nursery Rhyme Stalker. After a trip to England with his father, he spent most of his life there. Coop returned to Springfield after hearing of his father's health problems. As evidenced by his attitude toward some of the Spauldings, Coop is very protective of his family and like his sister, Harley, Coop always had his heart in the right place.
Coop trusted very easily, so he was treated badly by girl friends Ava and Lizzie. He seemed to wise up an mature as time went on. He had a nice relationship with Ashlee, and then later had a torrid affair with Beth. Beth was engaged to Alan, but she didn't love him. However, she didn't love Coop, either, although she was fond of him.
Coop was just a very nice guy with high moral standards. He was a romantic that always chased after true love.
Coop died when his car crashed after he slid on the ice in winter weather. He was saved by Phillip, but he died in the hospital while saying his goodbyes to his family.
Page proofread by Laura 11/3/09
Back to the Main Guiding Light Character Descriptions Page
---
Buy Soap Magazines
Go here for great news & scoops, photos and in-depth articles!
Soap Opera Digest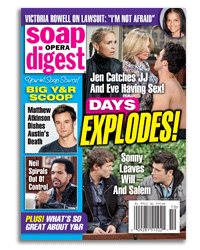 ---