PLEASE CLICK TO DONATE TO OUR SITE!!!!
This is just an unofficial fan page, we have no connection to "Guiding Light" or CBS.
PLEASE CLICK TO DONATE TO OUR SITE!!!!
Guiding Light Characters
Description by Elizabeth
Clayton Boudreau
PLAYED BY:
Richard Biggs (October 1, 2001 to Fall 2003; recurring)
Peter Francis James (November 26th, 2003 to March 30, 2004, January 26, 2006; Spring 2009; recurring)
Montel Williams (August 1, 2008 to December 2008, recurring)
ROMANCE:
Married (Felicia Boudreau)

CHILDREN:
Melissande "Mel" Boudreau
Remy Boudreau

WORK:
Dean and history professor at Springfield University
Former jazz musician

ABOUT:
Clayton is a man who is passionate about what he believes in, and that includes his friends. He was gung ho for his friend, Ross Marler to become a law professor at Springfield University until he found out he was having an affair with one of his students. He was sure that his son's music hobby was something to be taken lightly and encouraged him to pursue something more intellectual. This led to a lot of tension between Clayton and his son.
Clayton was also a bit worried when his daughter began dating Rick Bauer. However, as he got to know Rick, and he got some prodding from his wife, he began to lighten up. Since we were first introduced to Clayton, he has realized that having such high standards for those around him only leads to becoming more estranged from his loved ones.
Clayton is a dedicated family man. He and his wife Felicia have only been married to one another, unlike most residents of Springfield. Most recently, Clayton seems to be enjoying his new role in life as a grandfather to Leah Bauer.
Page proofread by Laura 9/8/09
Back to the Main Guiding Light Character Descriptions Page
---
Buy Soap Magazines
Go here for great news & scoops, photos and in-depth articles!
Soap Opera Digest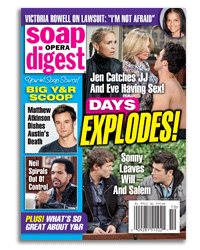 ---