PLEASE CLICK TO DONATE TO OUR SITE!!!!
This is just an unofficial fan page, we have no connection to "Guiding Light" or CBS.
PLEASE CLICK TO DONATE TO OUR SITE!!!!
Guiding Light Characters
Description by Elizabeth
Harlan "Billy" Lewis II
PLAYED BY:
Jordan Clarke (May 24, 1983 to January 1987; June 1989 to early Fall 1993; December 26, 1996 to May 5, 1998; February 5, 1999 to present; recurring)

Geoffrey Scott (temporary replacement, December 1993 to March 1994)
First arrived on Guiding Light: 1983
ROMANCE:
Agatha Dobson (dated)
Diane (maiden name unknown) Lewis (deceased)
Reva Shayne (divorced)
Vanessa Chamberlain (divorced)
Nadine Cooper (divorced, deceased)
Selena Davis (dated)
Vanessa Chamberlain (divorced)
Holly Lindsey-Reade (dated)
CHILDREN:
Melinda "Mindy" Sue Lewis (daughter with Diane)
Dylan Lewis (son with Reva)
Bill Lewis III (son with Vanessa)
WORK:
Executive at Lewis Construction
Former wwner of Springfield Towers
Former Lewis Oil bigwig
Former co-owner of the nightclub "Heartbreaker", with Hampton Speakes
Former partner in LTA Industries
ABOUT:
Billy is a stubborn country boy whose ex-wives include Dina, the late Reva Shayne Lewis, Vanessa Chamberlain, and Nadine Cooper. Billy has served jail time for shooting Roger Thorpe, and he has mentioned that it is the most terrible place to be.
Billy is close with his brother, Josh, who tries to keep him out of trouble. Even though he and his son, Bill, don't always see eye to eye on things, both would do anything for one another.
Page proofread by Laura 8/11/09
Back to the Main Guiding Light Character Descriptions Page
---
Buy Soap Magazines
Go here for great news & scoops, photos and in-depth articles!
Soap Opera Digest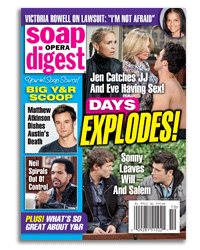 ---