PLEASE CLICK TO DONATE TO OUR SITE!!!!
This is just an unofficial fan page, we have no connection to "Guiding Light" or CBS.
PLEASE CLICK TO DONATE TO OUR SITE!!!!
Guiding Light Characters
Description by Elizabeth
AMANDA SPAULDING (AKA Ė Mandy Harper)
PLAYED BY:

Kathleen Cullen (July 18, 1978 to August 12, 1983; Christmas 1987)
Toby Poser (October 1995 to March 16, 1998)
WORKS:
Executive at Spaulding Enterprises
Former temporary president of Advantage Systems
Former madam
Former singer
Former partner in LTA Industries

ABOUT:
Amanda first came to town in the late 1970ís with her mother, Lucille. Lucille was an overprotective mother who taught her daughter that men couldnít be trusted. This fear of men caused her first marriage to break up. She couldnít consummate the marriage, and her mother somehow made her think that her husband had raped her.

Shortly after she became friends with another man, Ben, who helped her to throw away some of her emotional baggage. He helped her become her own person and found a letter that revealed that Amanda wasnít Lucilleís biological daughter.

It came out that Amanda was Alanís daughter from an affair with a woman named Jennifer Richards. Brandon finally confessed this to Lucille before dying. After his death, he left his entire estate to Amanda, and everyone assumed that Amanda was his illegitimate daughter.

Eventually, the truth came out about her true parents, but this was after Jennifer killed Lucille in selfĖdefense. Amanda wanted to get to know her real parents, and Alan vowed to spend time with her. However, Alan was put in prison for cooperating with Roger Thorpe, so Amanda became president of Spaulding Enterprises.


Amanda fell in love with Mark Evans, a man Jennifer was also in love with. They began to have an affair until it came out that he was only with her so that he could steal the company out from under her.

Due to her personal problems, she made some major mistakes at work. This caused Alan to go behind her back and strike a deal with Billy Lewis. Not long after, she moved to California to be with her new husband.

In 1987, Phillip requested that she come back to town as a surprise for their father. She did, and while in town gave her brother her shares of Spaulding Enterprises.

It was another eight years before Amanda would return to Springfield once more. This time, she was bitter and hardened. Sick of all the Spaulding lies, she was willing to do anything in order to get what she wanted. She had even started an escort service back in California.

She got back into the family business and worked with Roger Thorpe. When she was arrested, he was the one who helped her get out of jail (by blackmailing an FBI agent. Impressed with each other, she and Roger decided to get engaged. This forced the Spauldings to welcome Roger into their lives, as well as their family company.

They soon got married and left town to go work in the California offices of Spaulding. During their marriage, Roger found out that Amanda was in fact Brandonís daughter. He had lied to Lucille, and Alexandra knew the truth all along.

There was no more mention of Amanda until the fall of 2004. When Alan called her, she didnít mention her husband or where she was living. With Sebastianís return, they were all informed that Amanda was living in Italy.
Page proofread by Laura 9/29/09
Back to the Main Guiding Light Character Descriptions Page
---
Buy Soap Magazines
Go here for great news & scoops, photos and in-depth articles!
Soap Opera Digest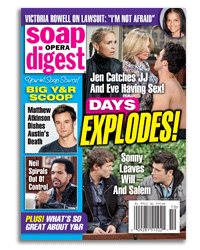 ---